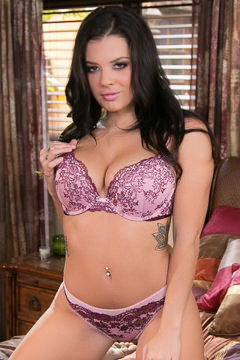 Keisha Grey
Height : 5'2"
Weight : 125
Bra Size : 34
Measurement : 34-23-27
hair color : Brown
eye color : Brown
Date Of Birth : 1994-06-09
Twitter : https://twitter.com/littlekeish
Keisha Grey's Biography :
Keisha Grey has been in more than 15 scenes on girlsway by the time she was chosen to be Girlsway Girl of the Month. She's always been low-key promiscuous, and her Gemini sign warns anyone not to get too close, but once they weave themselves past her mysterious demeanor they'll discover a vixen with some serious fetishes. Her first time with a girl officially (not just the high school lesbian kiss she remembers) was on Camera, she told us it was the coolest way she could think of having sex with another girl. Among her wildest off screen sexual encounters she lists three public occurrences! Once on her parent's front lawn while it was raining, another time in a shopping cart, and finally sucking her boyfriend's dick in a public hallway! She got wild once with Carmen Caliente when they put spinach in their teeth and still got picked up! If spinach in her teeth wasn't frightening enough, her biggest fear in the entire world is of roaches. Keisha loves Zombie movies and comedy, so Sawn of the Dead is notably her favorite film. Among other pastimes, she noted reading, music art and exploring as her top off-set preoccupations.