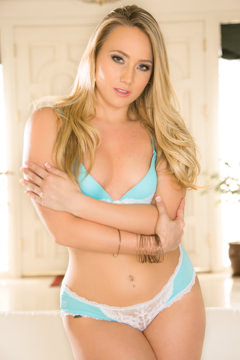 AJ Applegate
Height : 5'2"
Weight : 120
Bra Size : 34B
Measurement : 34B-26-39
hair color : Blonde
Date Of Birth : 1989-09-23
Twitter : https://twitter.com/ajsapplebooty
Favorite Body Part : A sexy toned back
Girl of the month : GOTM June 2017
AJ Applegate's Biography :
Born in September 1989 in Massapequa, NY to parents of German and Italian descent, AJ Applegate began stripping at the age of 19. The former cheerleader taught dance and worked as a nude and fetish model before filming her first adult movie in 2012. She won AVN's "Best Group Scene" in 2015. Best known for her beautiful booty, it's no wonder AJ is becoming a certified personal trainer. After launching her new fitness channel, AJ strives to balance her fitness life with filming and feature dancing. Her startling good looks and love for women makes her an obvious choice for Girlsway's GOTM. AJ tends to be dominant in bed because she knows what she wants. Her first lesbian experience happened long ago with her best friend, when neither knew what they were doing except that it felt good. Her biggest turn ons are good kissers, hygiene and confidence. Her favorite book is The Giving Tree by Shel Silverstein. She loves any Jim Carrey movie and thinks fruit are the sexiest food. Skydiving tops her bucket list. When AJ gets recognized in public, it's typically at the gym or airport. AJ will cum right away if her clit is properly licked. With her penchant for lesbian pussy and down to earth intelligence, this blonde bombshell is bound for success.